THEME: MINDFUL LIVING
COLLABORATION: MUJI
This was a school project that I participated in during my master's program at Kyushu University in Japan in collaboration with MUJI. Designers from the Japanese housewares company led the project, in which they challenged us to design a product for the MUJI brand that was inspired by "mindful living." 

I designed an updated version of MUJI's cypress cutting board. After determining the aspects that customers had the most problems with, I came up with a simple design solution that prevents warping and well as the growth of mold by combining the positive qualities of wooden and plastic cutting boards.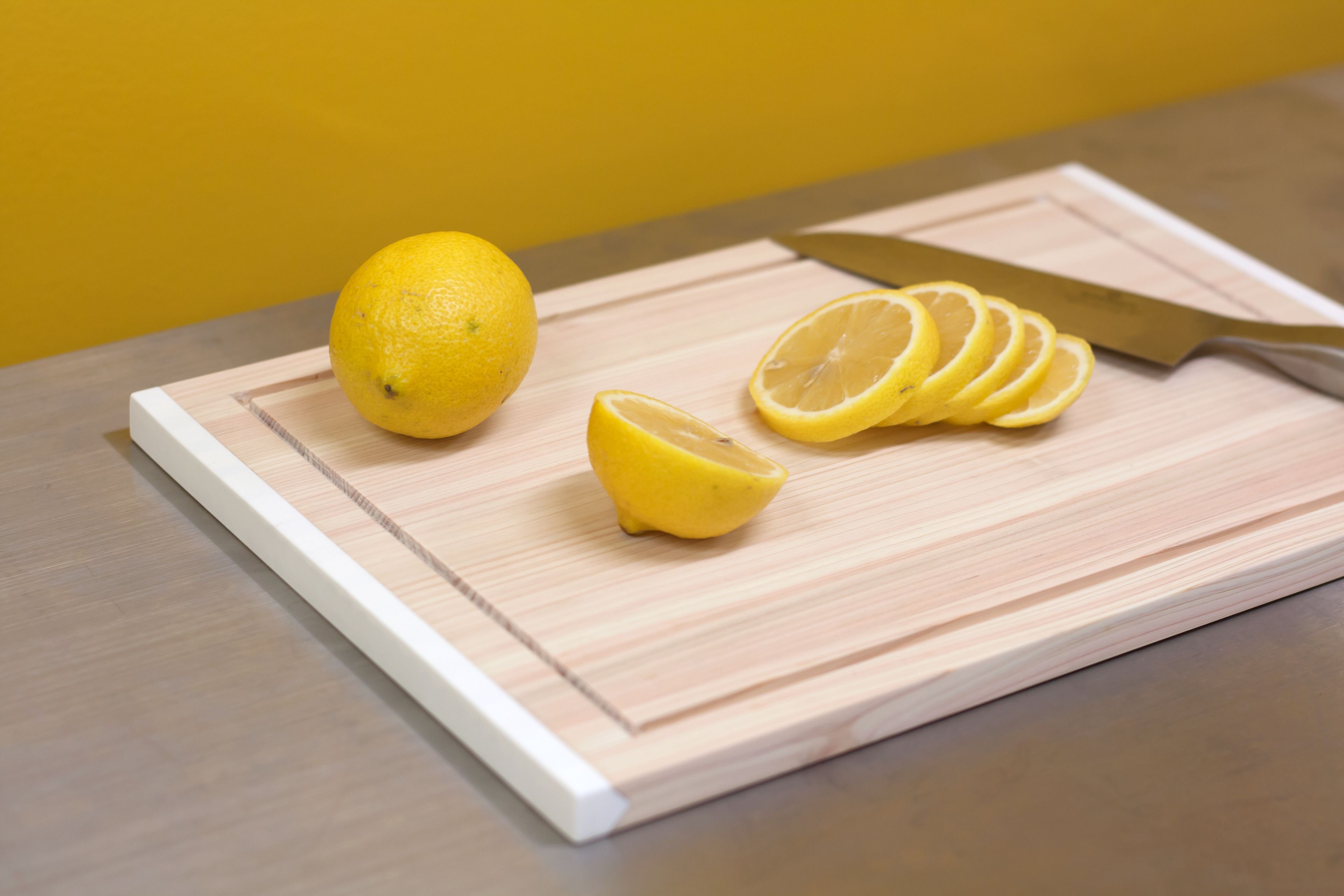 THE MUJI BRAND
As this project was a collaboration with MUJI, I analyzed MUJI's kitchen products to find the requirements for a design that would fit with the brand. I determined that using a single material (or two materials when functionally warranted) was a requirement. MUJI's assortment of products usually used unstained wood, ceramic in white or neutral colored glazes, glass, stainless steel, or plastic in white or black. In addition, the product should be simple and single-function and the product should have the simplest form possible to fulfill that function.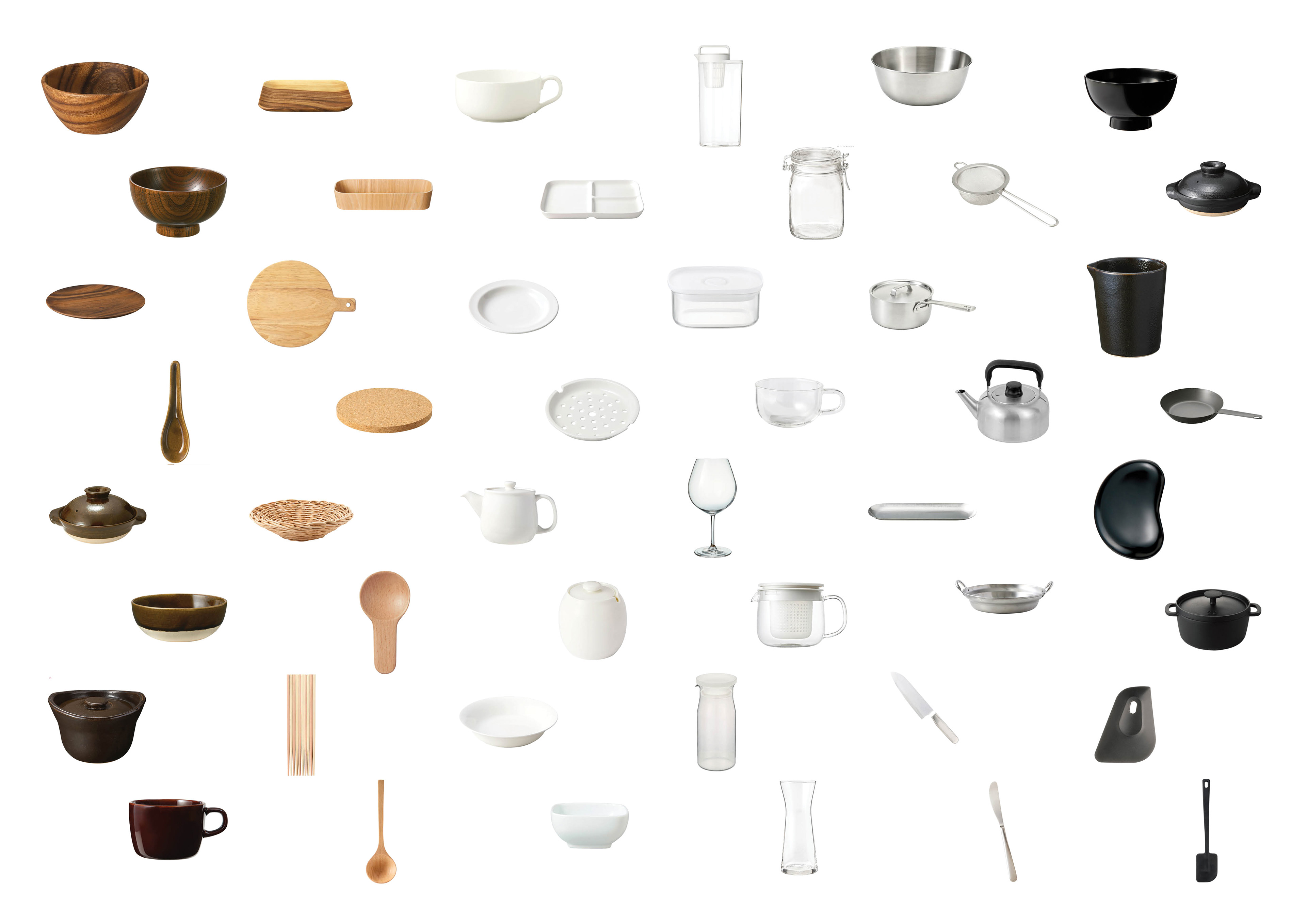 IDENTIFYING THE PROBLEM THROUGH USER RESEARCH
The assignment was to design a product for MUJI that embodied the concept of mindful living. After some contemplation about what mindful living was to me, I concluded that a clean lifestyle was the best way to leave room for mindfulness and enjoying each moment. However, by surveying target users, I found that most think of cleaning as an unenjoyable chore. For that reason, I set out to design a product that would help users live a cleaner lifestyle without going to any conscious effort.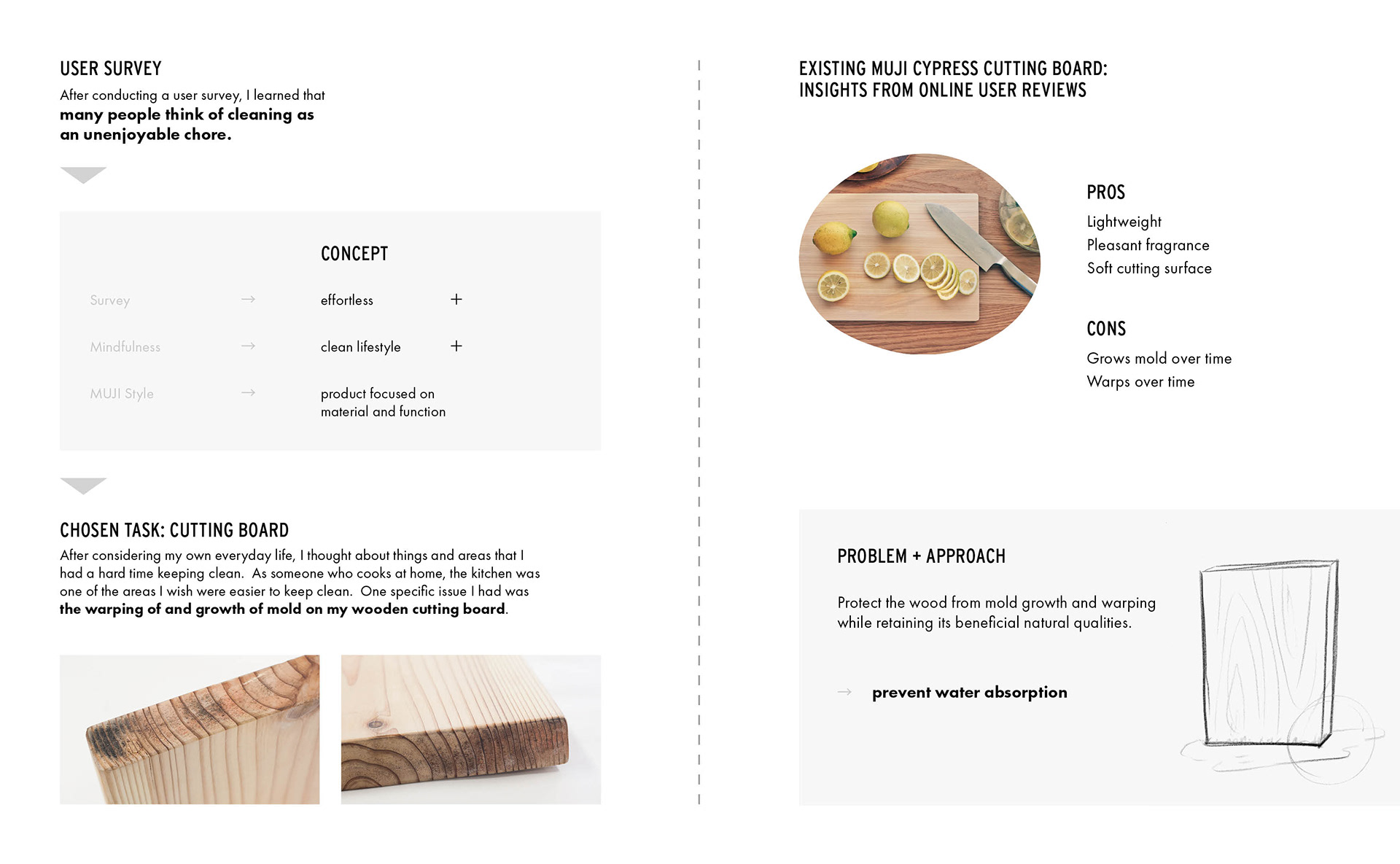 IDEATION
Taking into account the insights I gained from my user survey and online reviews of MUJI's existing cutting board, I got to work brainstorming ideas for a cutting board that would maintain the benefits of wooden cutting boards while preventing warping and the growth of mold. My approach to solving this problem was to
prevent water from absorbing into the cutting board
while standing up to dry.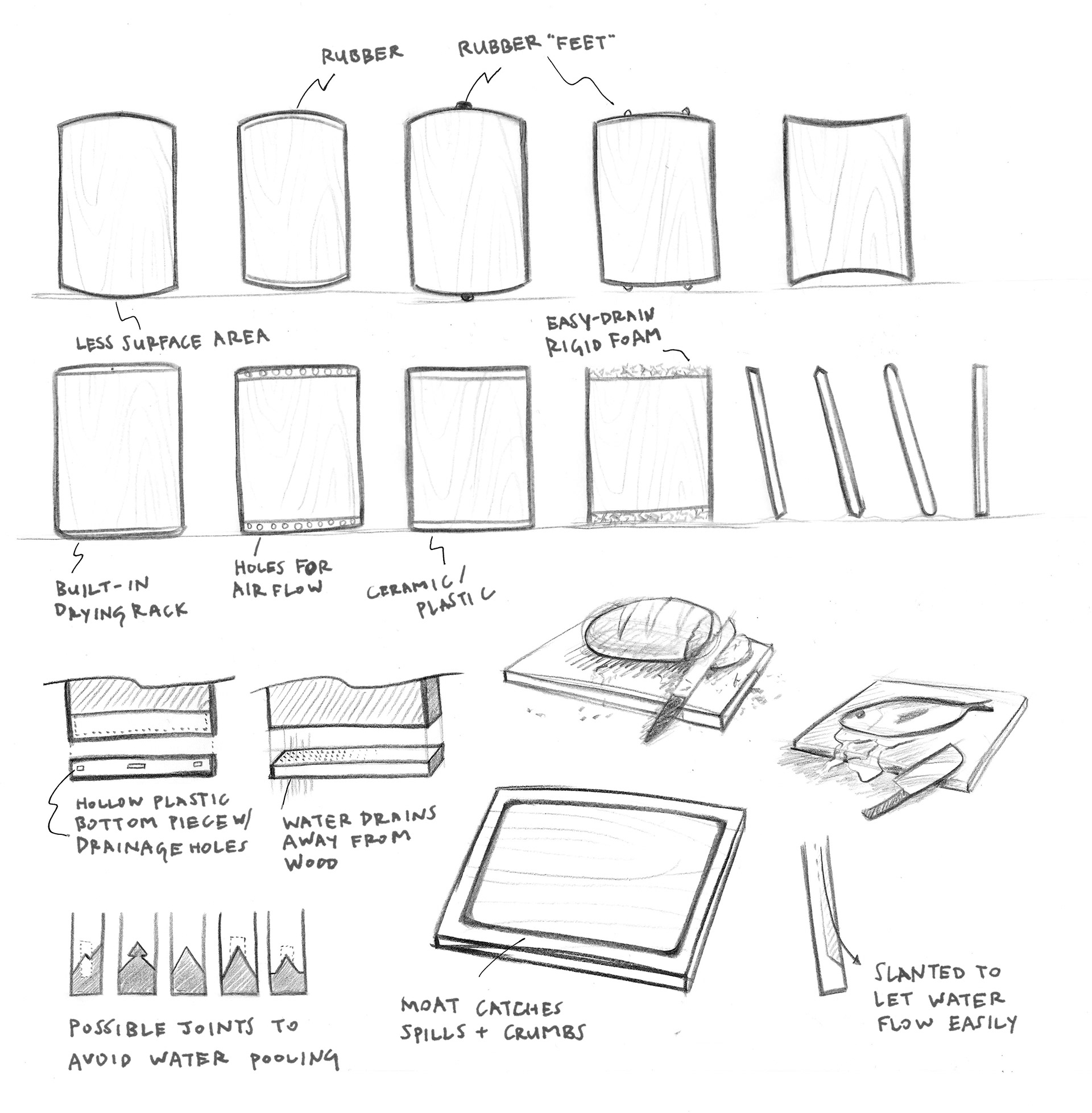 PROTOTYPING
I brought my chosen idea to reality with a Hinoki Japanese cypress board with 3D printed polypropylene end pieces. I paid special attention to choosing a joint between the two materials that wouldn't allow water to pool within the fibers of the wooden board. This is why I chose a unique triangular joint to encourage water to escape the board's fibers with the help of gravity.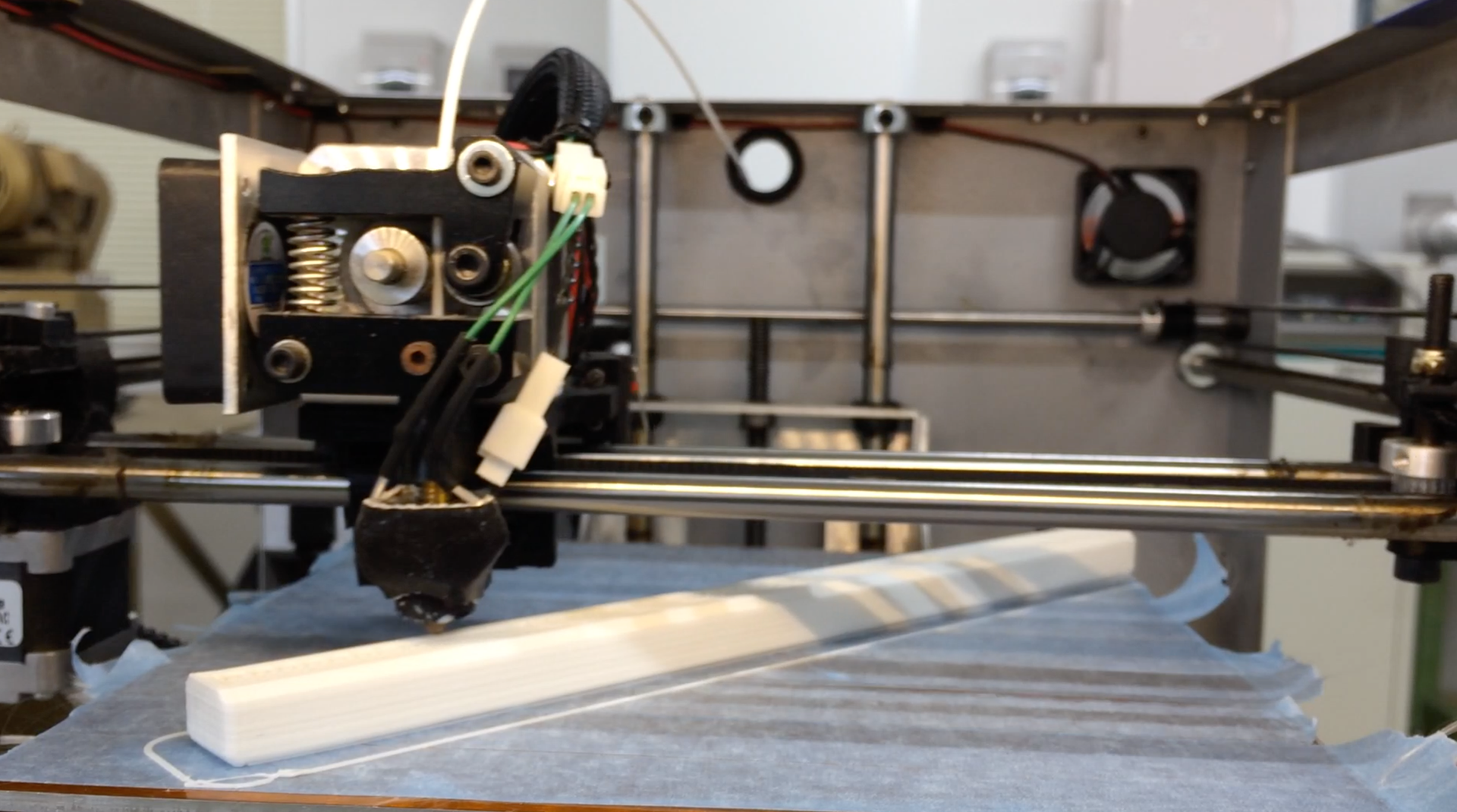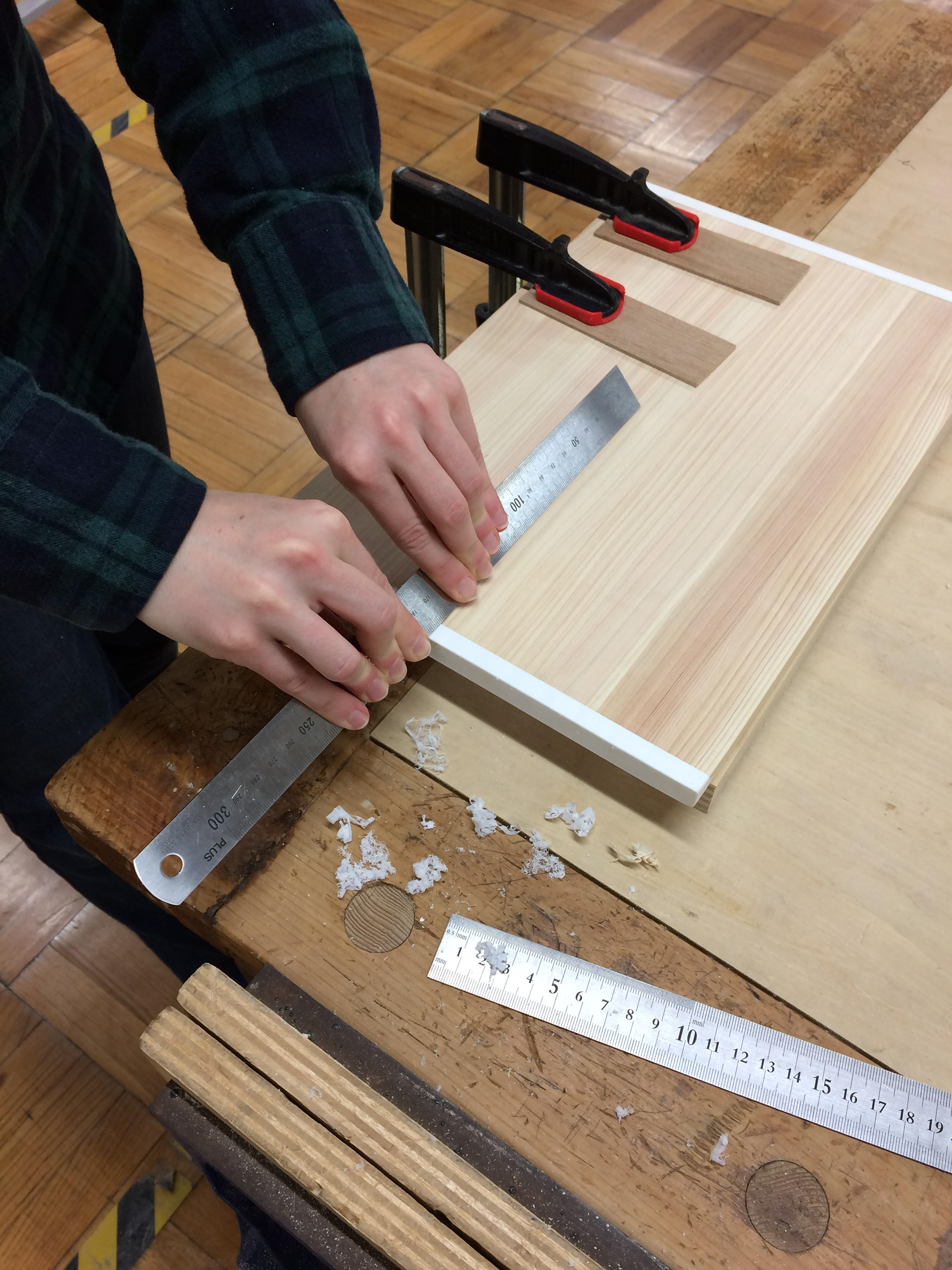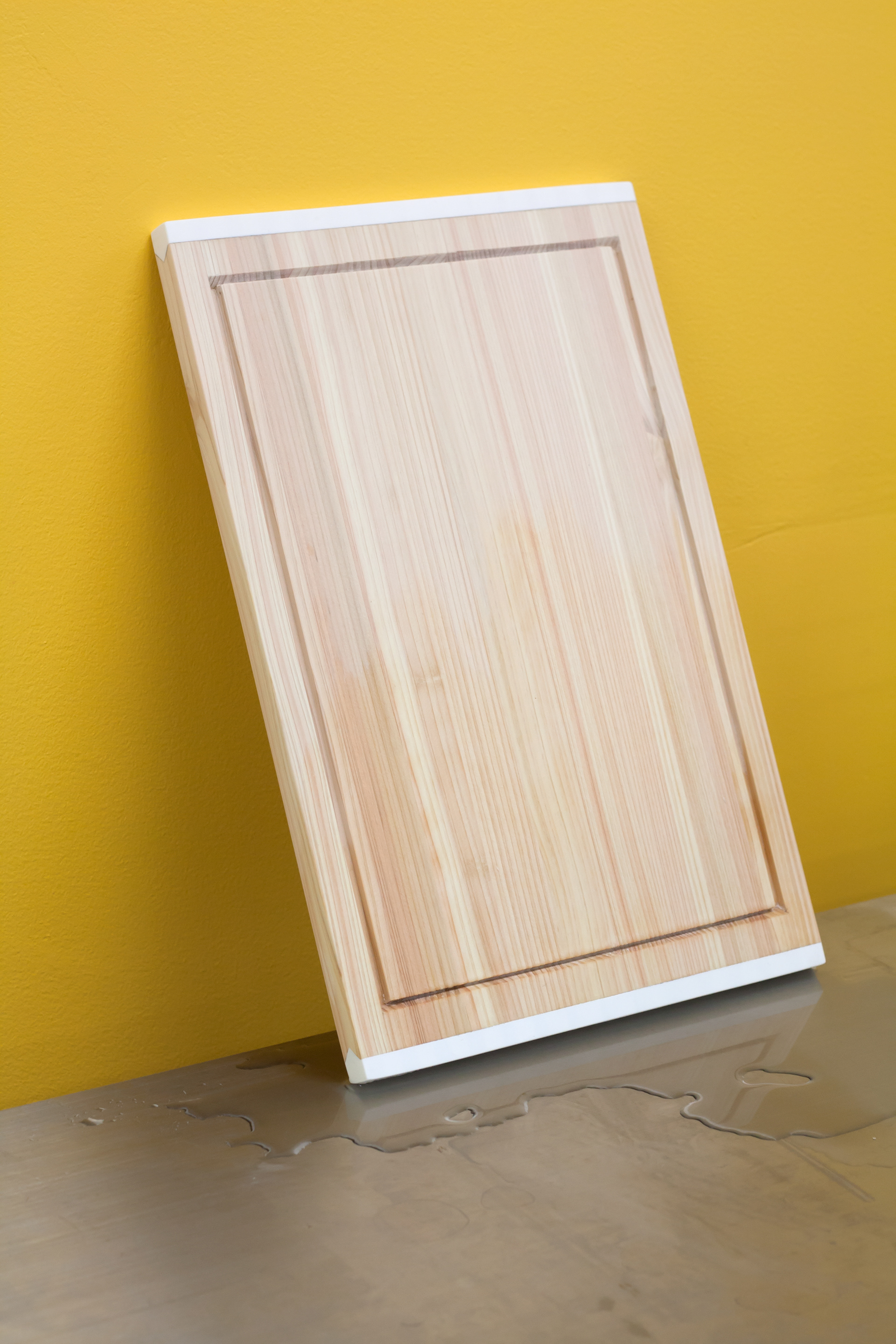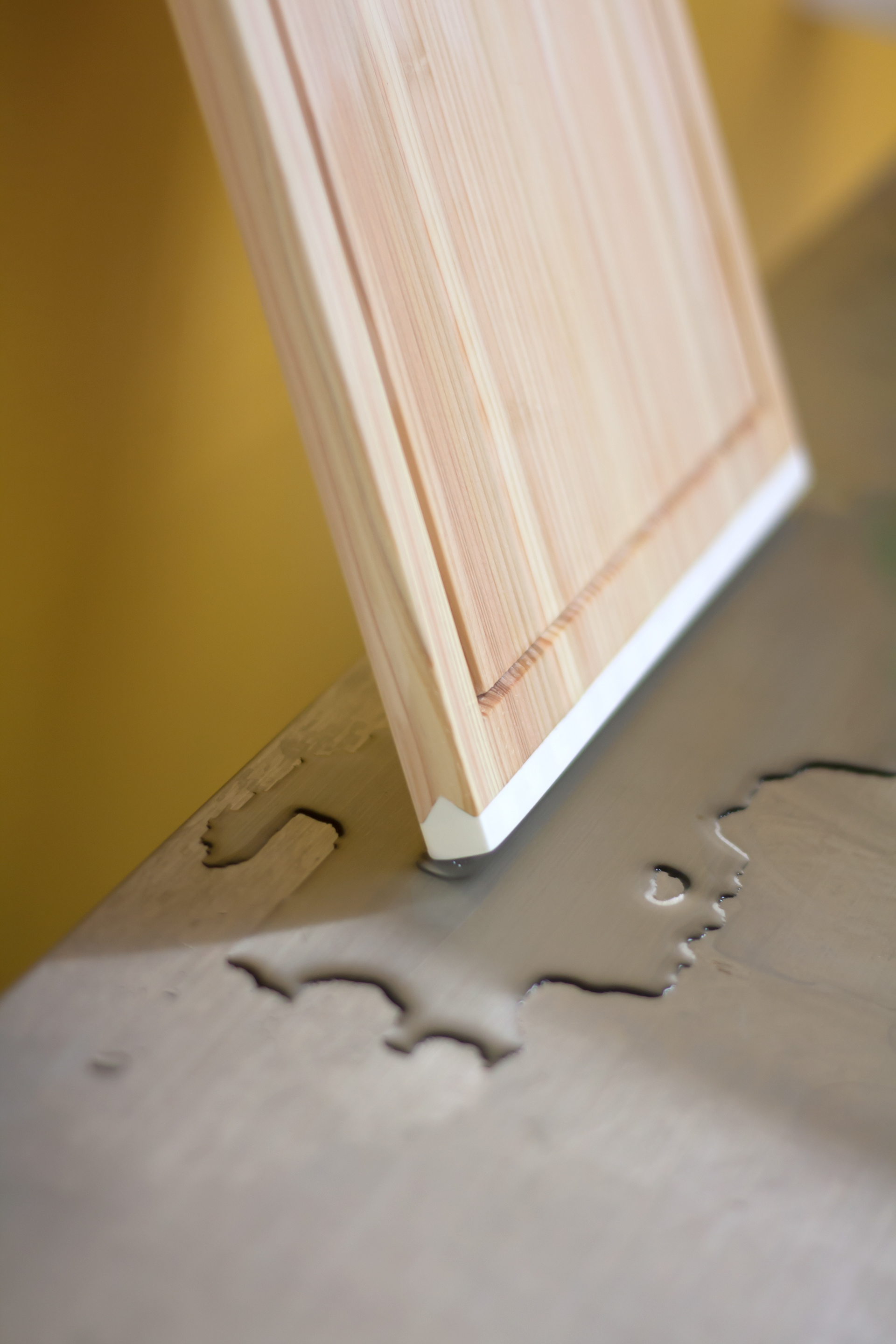 MOLD-FREE, WARP-RESISTANT, BUILT TO LAST
With its polypropylene plastic ends, this cypress cutting board is built to last without the worry of mold or warping. After washing, the board can be stood up on end and leaned against a wall to dry without the need for a stand. Even if water pools on the countertop, the water will not absorb into the cutting board, which prevents mold from growing. The plastic edge also prevents the wooden board from warping. With my design, users can enjoy all the benefits of a wooden cutting board without worrying about it being ruined by warping and mold. Rather than having to buy a separate cutting board stand to fulfill this purpose, they can intuitively prop the board itself directly on the counter.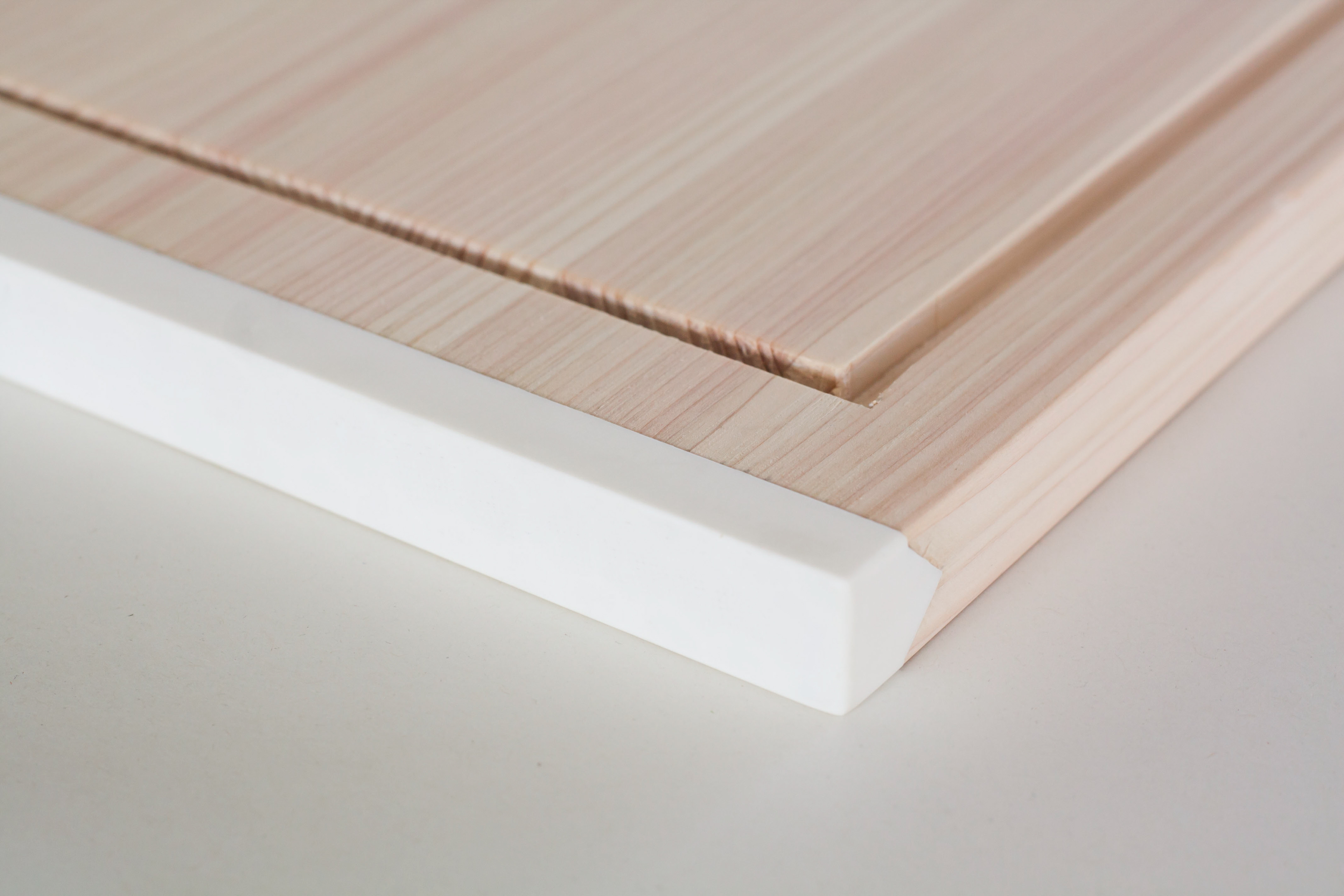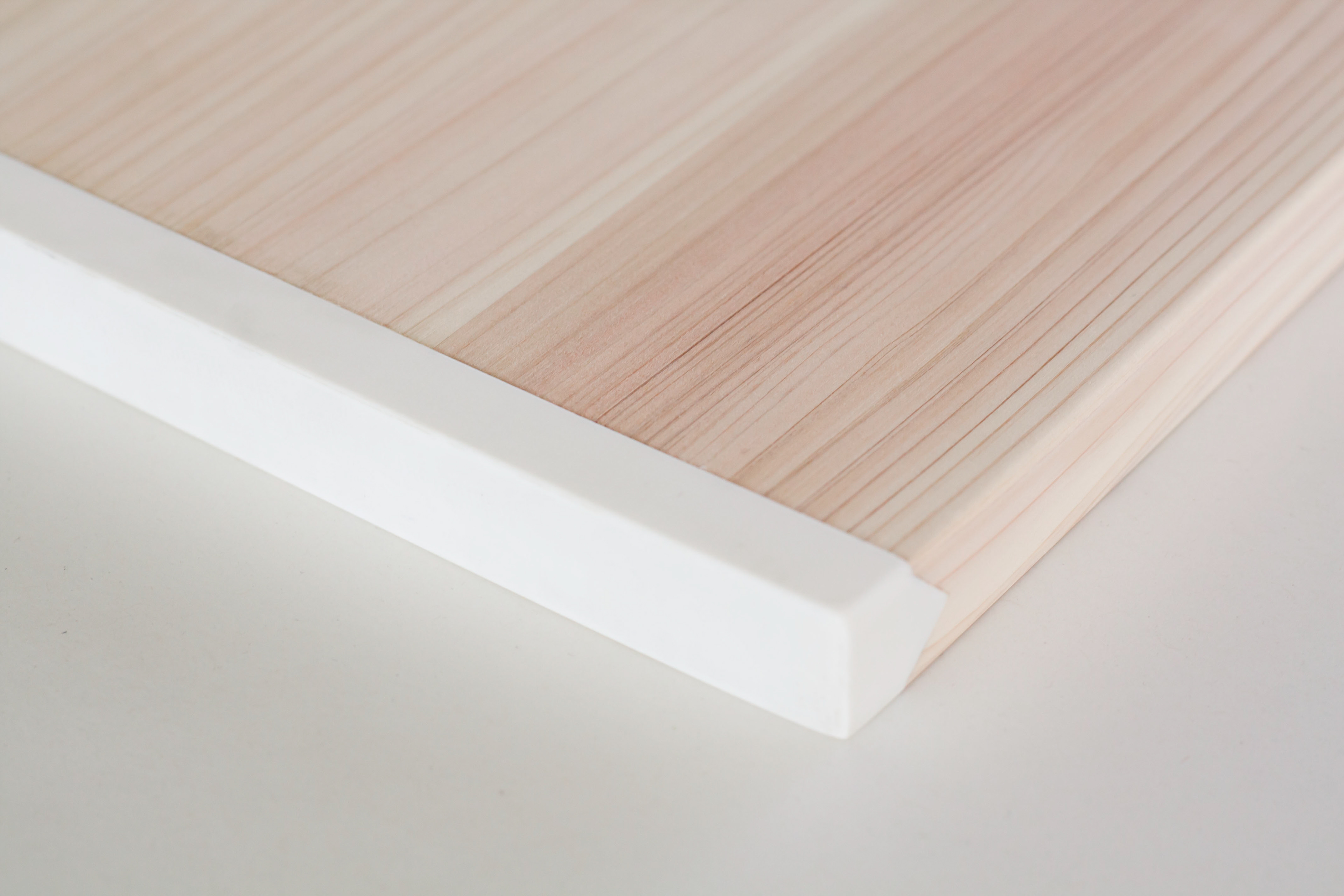 REVERSIBLE DESIGN
The minimal juice groove design makes it easy to tell the two sides apart without relying on graphics.  This enables the user to designate each side as meat-only, vegetable-only, etc.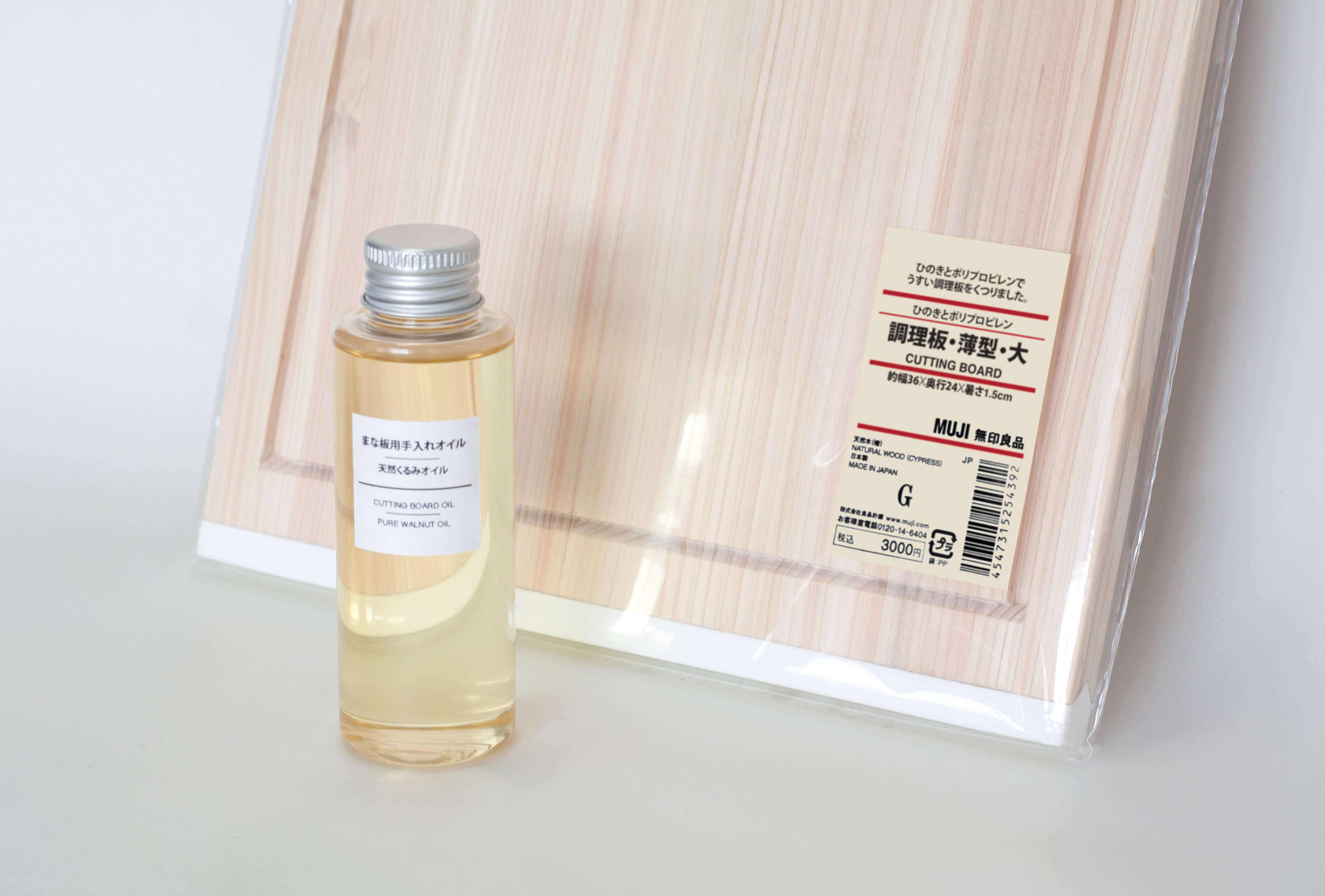 MAINTENANCE OIL
With regular oil treatment, the board becomes more water-resistant, protecting against mold growth and warping. In addition, the oil treatment makes the board more resistant to staining and brings out the natural beauty of cypress wood. This natural walnut oil is a food-safe drying oil that won't remain greasy or sticky.